Related to:
Active Dashboard editor, missing tools, missing dashboard palette.
Problem
Missing tools in Active Dashboard palette.
Possible Cause(s)
Tools manually removed from the palette are not recoverable.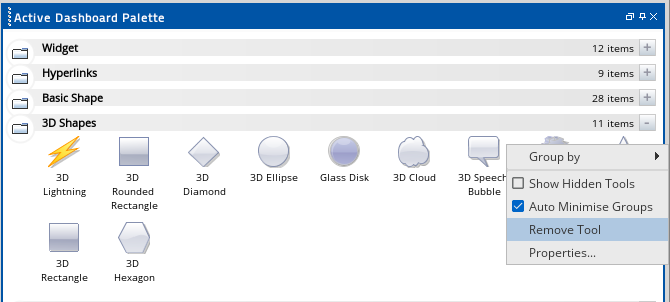 Possible Solution(s)
The elements can't be recovered in the workspace once they have been removed.

The best option is to create a new workspace with a complete palette. To make things easier, you can export dashboards, custom views, etc. in Active Console and then import them into the new workspace.
Related Articles
If Issue Persists
Please contact our Client Services team via the chat service box available on any of our websites or via email to support@itrsgroup.com



Make sure you provide to us:

Active Console version
Screenshots showing the Active Dashboard palette
Evidence of a new workspace with missing tools
Any troubleshooting steps already verified from the ones described in this article.