Geneos has the RMS option (Remote Management Service) which can be be configured to restart a a netprobe process. Note this cannot be used to start a netprobe process which is already down.
Add the following xml as a new command on your gateway
<command name="Restart">
<targets>
<target>/geneos/gateway/directory/probe/managedEntity</target>
</targets>
<task>
<commands>
<commandRef>
<internalCommand>
<name>/RMS:restart</name>
</internalCommand>
<stopOnError>true</stopOnError>
</commandRef>
</commands>
</task>
</command>
Right click the Managed Entity and click on the Restart option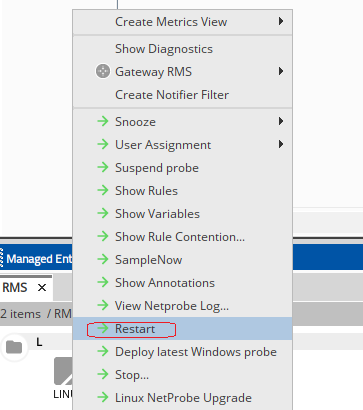 An output window should appear indicating success. As below.

The NetProbe Log file will indicate a restart has been initiated

The Gateway Log file will also indicate a restart.

If you want to run this against many servers and you want run this out of hours on a weekday or on a weekend this command could be scheduled accordingly using the scheduled commands option. Link below
https://docs.itrsgroup.com/docs/geneos/current/Gateway_Reference_Guide/geneos_commands_tr.html#Scheduled_Commands
Note - Please check within your organisation as there may be other tools / practices in place.
Related Articles
https://support.itrsgroup.com/hc/en-us/articles/115004022365-Geneos-Netprobe-How-to-use-RMS-commands-to-upgrade-Linux-Probes
https://docs.itrsgroup.com/docs/geneos/current/Netprobe/general/rms_technical_reference.html#overview