Related to:
FKM trigger, trigger mode, single-trigger, multiple-trigger, trigger count


Problem
Not showing count for each trigger
Possible Cause(s)
Multiple trigger mode display > triggerMode > Multiple or display > triggerMode > Multiple_grouped_trigger is used.
In multiple-trigger mode, trigger count is displayed next to the file entry and shows either a count of all active triggers (Trigger count mode > SUM), or the cumulative total (Trigger count mode > CUMULATIVE_TOTAL) of all triggers detected for the file so far.
Possible Solution(s)
If you want a count to be shown for each trigger, you will need to change the trigger mode from Multiple to Singer trigger mode: display > triggerMode > Single
Open Gateway Setup Editor (GSE)
Go to the FKM in GSE
Open the Advanced tab
Select Single on the Trigger mode menu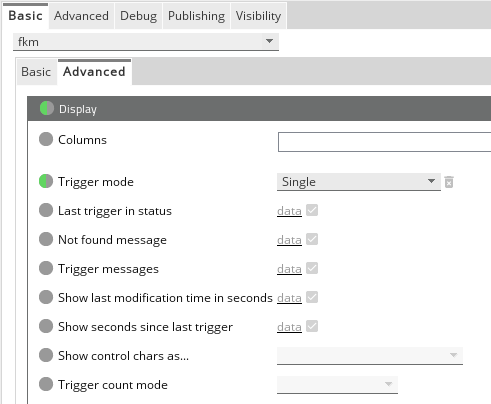 Related Articles
File Keyword Monitor Configuration
How do I send an alert in an FKM sampler if there are 3 trigger keys detected within 1 minute?
How to monitor a log file for X number or errors within a specific timeframe using the FKM sampler
If Issue Persists
Please contact with our Client Services team via the chat service box available in any of our websites or via email to support@itrsgroup.com



Make sure you provide to us:

FKM sampler configuration in xml
FKM dataview screencapture
Any troubleshooting step already verified from the ones described in this article.