In FIX-Analyser 2 plugin, the Filter option in Message Detector view should refer to a Filter defined inside a Filter List template. This can be found under Static variables => FIX-Analyser templates.
The FIX Analyser 2 Netprobe download package includes a sample setup XML file under the template directory. New users of the plugin may find this helpful to get started. If you open the template setup file, you can see basic Message Detector views and how they're configured, as well as common filter lists already preconfigured.
Example: the "cancel" filter in Message Detector view can be associated with a filter of the same name under BasicList_Filter template.
Caution
There is a known issue with Gateway Setup Editor for the Message Detector configuration (recorded as VI-3373 in our internal system). If the Filter name is not yet defined, clicking the "Jump to" arrow button on the right would prompt whether to create the filter, it would return an error message, however.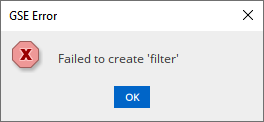 Users should make sure that the Filter has been defined (check for typos and case-sensitivity), the "Jump to" button will then work.
Further Information