RRD graph can suddenly change axis units
An RRD graph can suddenly change the axis units, leading to a confusing looking diagram when viewing as historical data

For example, when a check is set up to monitor Disk Usage as shown in the images below.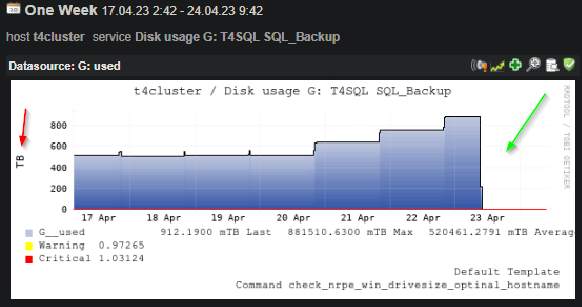 In this example, the disk usage exceeded 1 TB usage and therefore exceeded the previous axis limit. Once this limit was exceeded, the graph produced used Terabytes axis.
This is expected default behaviour.

The software used in creating these graphs is PNP4Nagios which in turn uses RRDTool.
E.g. rrdgraph(1) - Linux man page
Limits

[-u|--upper-limit value] [-l|--lower-limit value] [-r|--rigid]

By default the graph will be autoscaling so that it will adjust the y-axis to the range of the data. You can change this behaviour by explicitly setting the limits. 
The displayed y-axis will then range at least from lower-limit to upper-limit. 
Autoscaling will still permit those boundaries to be stretched unless the rigid option is set.
Neither PNP4Nagios nor RRDTtool are ITRS products, and so more helpful documentation may be found on their respective websites.
If you have any further questions:
Please contact with our Client Services team via the chat service box available in any of our websites or via email to support@itrsgroup.com



Make sure you provide to us:

ANY LOG FILE OR DIAGNOSTIC
ANY SCREENSHOT