Who can get support from ITRS?
All clients with an active maintenance contract with ITRS can get support from our global support teams.
Requesters must use their registered corporate email address when contacting ITRS for support. The email domain should match the records provided to ITRS in the support contract. We ask that any accounts you create and requests you submit must come from an email address that is associated with an individual in your organization, due to GDPR; team or communal email accounts are not allowed.
Users can create an account in the ITRS support portal. Registered users can access the support portal to raise and respond to support requests, check documentation, and download binaries.
Any client-specific restrictions on downloads and deployment of configuration and software binaries must be enforced by the client themselves.
How can I get support from ITRS?
Support works across many different channels - We can be contacted via our client portal support.itrsgroup.com, through our chat box on all ITRS Group websites for quick queries, through emails to support@itrsgroup.com, or via one of our telephone numbers. All these channels will raise a ticket in our global help desk system.
Replies to your tickets will come back via email and you can respond via the same channel. Alternatively, you can log in to the support portal directly to see lists of your issues, and update existing and raise new ones.
As a global organization, we have chosen English as our principal language, for both internal and external communications. While we have numerous staff who are multilingual, we ask that all your interactions are carried out in English so that we can offer you the widest coverage.
You can also phone for support at the following numbers:
United Kingdom - +44 1344 596268
United States - +1 256 594 9505
Sweden - +468 437 33 643
Philippines - +632 8 299 3080
Hong Kong - +852 3001 6621
When can I expect a response from ITRS support?
The ITRS support team operates out of several offices globally and provides two modes of support, Standard and Premium:
24 hours a day, five days (Mondays thru Fridays) a week for Standard.
24 hours a day, seven days (Mondays thru Sundays) a week for Premium.
We operate as a global team, so any given query will be allocated to the best available resource in any region.
We are committed to getting back to you on all queries within two working hours, but in practice, we aim to be more responsive than this (we have an average response time of 30 minutes). Through our chat and telephone channels, our goal is to answer you personally within 2 minutes.
What level of support can I expect and what does ITRS cover?
We employ Level 1 and Level 2 technical support models. Your query will be picked up by Level 1 agents for screening and technical resolution and, if necessary, will be escalated to Level 2 - a group of experienced ITRS technical resources. Tickets may move between techs as the investigation continues, to ensure we are meeting your requirements with our best and most appropriate skill sets.
The support desk covers all queries relating to ITRS products and services, specifically:
Guidance with installation
Guidance with setting up new monitoring.
Advise on configuration or change to existing setups.
Best Practice in performance queries and tuning.
Enhancement requests.
Managing perceived defects.
Documentation links and ideas for improvements.
Please note that the ITRS support team expects users to have minimum levels of technical knowledge on the operating systems (or related technologies) ITRS software is installed on and ITRS software itself.
What tends to fall outside the ITRS' support scope?
Help with non-ITRS products (operating systems/scripts/third-party software). Although our team contains experienced sys admins, DBAs, market data specialists, dashboard gurus, etc., we are not always available to provide significant help to answer these questions.
Hardware and third-party software components of an installation (we will normally refer you to contact the manufacturers' support services).
Reconfiguration and green-field work (we will normally refer you to our Professional Services team).
Code and scripts that were written by the client, those written by third parties, or those deployed under the ITRS MIT license (https://resources.itrsgroup.com/useful-scripts).
Using the product outside of documented standards.
What channels will ITRS use to work with you?
We understand that every client will have preferences for how you would like us to work with you, and we are committed to being as flexible as possible. As standard, we are happy to:

Handle directly logged tickets in our support portal or those received via email.
Via phone calls: Please note that it may not be possible to resolve the issue in an initial phone conversation, we aim to provide you with triage, guidance, and quick help whenever possible, but there may be some investigation required which will be progressed through a ticket.
Via chat: We aim to provide you triage, guidance, and quick help whenever possible, for the cases where further information and investigation are required, the chat will have automatically created a new ticket on your behalf, and we will continue towards resolution on the ticket. 
Perform a remote screen share: We can schedule the use of Web-ex/Teams' remote sessions, based on our agent's availability, to help with complicated issues or situations we consider urgent enough to warrant a remote session.
You should also have access to our online documentation and downloads.
What is the workflow of a ticket?
The workflow by which a ticket is resolved is shown below.  The thicker grey lines represent the most common flow. In summary, tickets can be raised via the web portal, via Chat , or via email (as discussed above).
There will then be a discussion on a thread in the ticket. Respondents can update this via the web portal or by email.  At some point, the ticket will be resolved or become one or more change requests that will enter the ITRS development backlog. ITRS treats tickets in the change request state as still open.  The only condition under which a ticket will automatically close is if the client does not respond (having been asked for an update) within two weeks.  During this time, they will receive reminders that we are awaiting a response. Under specific conditions tickets may be canceled, generally when a duplicate has been opened.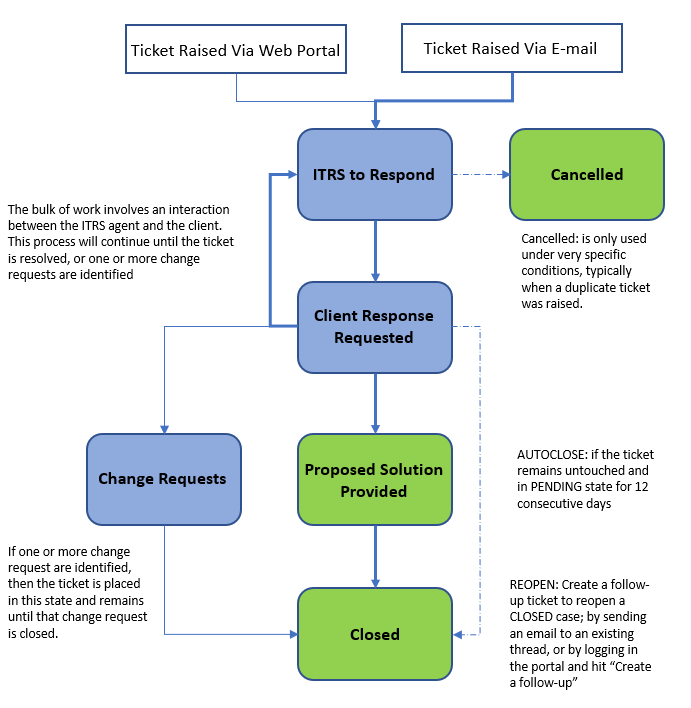 How do we classify the impact of a ticket?
Tickets are ordered by SEVERITY; whereby the highest SEVERITY is indicated by S1 and therefore will be higher up in the list of priorities compared to lower severities, such as S2, S3, and General Enquiry, respectively.
In submitting a case, requesters are expected to fill out the SEVERITY field with the perceived value to their business (to see how each severity is defined, see table below), together with the other required fields prior to submitting a case. Upon submission, an attending agent will assess based on the information available on the ticket and, if necessary, adjust the SEVERITY, and either downgrade or upgrade it.  In some cases, attending agents may come back with further questions to help discern the appropriate SEVERITY of the ticket.
If the requester feels that the SEVERITY assessment is incorrect, the requester must provide justification as to why the SEVERITY must be changed, commonly UPGRADING the case.
SEVERITY

CONDITIONS

1 - Severely Impacted

A key component of the

PRODUCTION

system is crashing regularly or unable to start (Gateway/OP5 monitor not responding/Opsview System is severely impacted or completely shut down), affecting the whole organization or multiple teams.

No workaround/interim fix is available.

NOTE: The customer must have a technical contact person available for the duration of the Severity 1 issue

2 - Limited Capabilities

The PRODUCTION

system is disrupted with a limited scope; a component's performance is significantly degraded or is unstable, with periodic interruptions.

The client is still able to

monitor

their state effectively.

Workaround is not available.

3 - Minor Issues

A single person or single

component

(plugins/

Netprobe

/check not working) is affected but

does not

affect the client's ability to

monitor

their state effectively.

There is a workaround to minimize/remove impact in the

PRODUCTION

environment

.

Any issue related to UAT/DEV will

also fall

into this category. There is little or no obvious impact on services.

General Enquiry or Question

The client is asking for 

clarification on procedures, steps for

implementation

, information in documentation

 on how to do something, also any general query about the product/company.
How does ITRS onboard new clients?
Onboarding of new clients is initiated via ITRS' CRM software. Upon activation, the new client's organization's email domain will be registered on the Support desk (for example @itrsgroup.com) which will enable new clients to avail of ITRS Support and access to ITRS facilities, such as training, documentation, and binaries.
Tracking change requests.
For support tickets specific to software enhancement requests, once accepted and filed, the support ticket will be marked as Solved, even though the underlying request is still ongoing. When the internal enhancement request progresses onto later stages, it will automatically open new follow-up tickets to inform ticket requesters of the progress which will once again be immediately closed (marked as Solved), as it is intended for informational purposes only.
There are normally two of these updates; the first when the change enters the development cycle and the second when it is available in a release. The time between these two updates will normally be one or two releases.
For support tickets specific to bugs, those tickets will remain open until it changes to solve, with development status fixed or will not fix.
We welcome and act upon your feedback.
At the end of every ticket, we send confirmation of the closure via email. The email contains an invitation to respond to a simple survey.  We take the survey responses very seriously and are constantly making changes based on the feedback. Changes included:
Building and updating the new FAQ site.
Modifying our support hours for higher demand from our Australian clients.
Adding the Gateway Diagnostics function to speed up issue detection in the gateway.
Adding new metrics collection on user intent to identify hot spots where users regularly get stuck.
We can only make effective changes in this way if we get sustained and reliable feedback.